Spring '13
Keith Parker tells how he was reminded to wear his greatest prize boldly, even though he never earned it.
A couple of years ago my son was competing in a junior rodeo series here in Alabama. He didn't get entered up until just before mid-season.
Well, my son was really doing well. He got to the finals just one point out of first in the calf roping. He drew a good calf and stuck it on him. The pressure was on. The young man who was in first stepped up like Joe Beaver or Cody Ole and … BAM … he stuck it on his calf and, when dust settled, they tied. Two young men fought a great fight and in my book both were winners.
Well this is where the story really gets good.
At the awards ceremony the young man who won came to my son and gave him the buckle. What do you say to that?
Let me share my stupid moment. (Yes, I've only had one.)
My son looks at me with that, "What do I do now?" look, and I nod for him to accept.
See, we cowboys are a proud bunch. We don't take nothing we didn't work for, or nothing we didn't earn, and sure don't wear no buckle we didn't win. My daddy taught me that and I taught my son that.
So, on the ride home, I share with my son that that was a really nice thing that young man did. And it was good that he didn't deny that young man his blessing.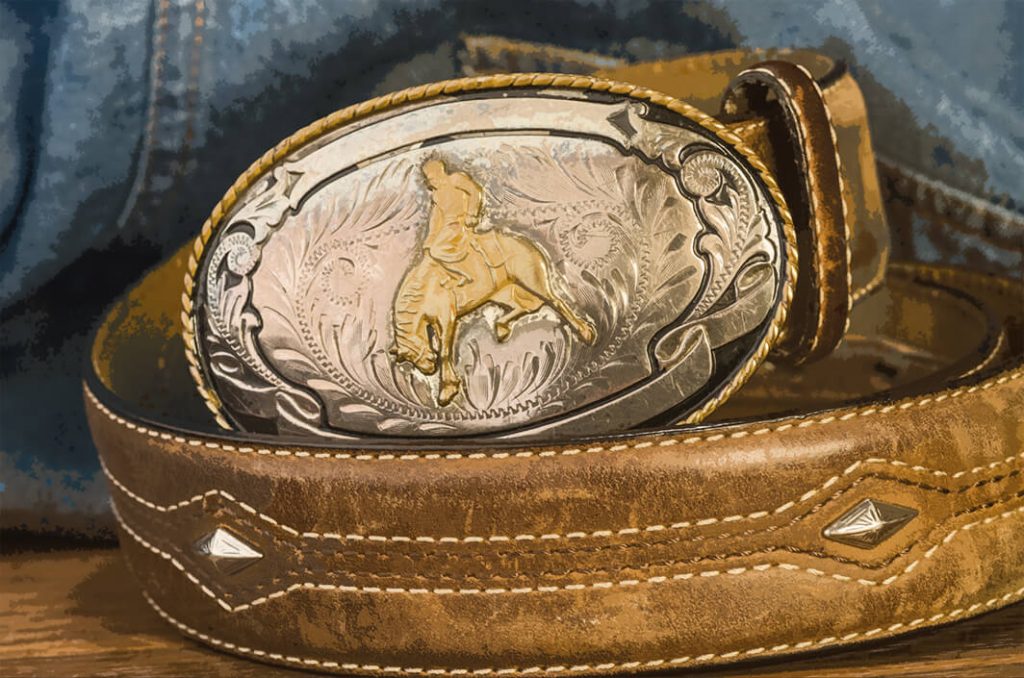 I told him he didn't have to wear the buckle, he could just keep it on the shelf.
That is when I felt it, like a fiberglass sortin' stick right between the eyes.
God said to me, "The champion buckle I gave you, you didn't win, and many times I notice you put it on the shelf as well."
Romans 3:23—We all have fallen short of the glory of God.
We all are at least 1 point out.
But in verse 25 it says, "For God sent Jesus to take the punishment for our sins to satisfy his anger against us. We are made right with God when we believe that Jesus shed his blood, sacrificing his life for us."
Jesus gave us his champion buckle.
If you haven't received your buckle yet, verse 25 tells you how to enter up. If you have, get that puppy off the shelf and wear it like the champion Gods sees you as.
My son has won a few more buckles since then, but most times you will see him wearing that other one. And when people ask about it, he shares this story.
For everyone has sinned; we all fall short of God's glorious standard. Yet God, in his grace, freely makes us right in his sight. He did this through Christ Jesus when he freed us from the penalty for our sins.
– Romans 3:23-24 (NLT)