Cowboy Camps

Cowboy Camps are an incredible opportunity to be involved in nurturing and guiding our youth during the most formative years of their lives.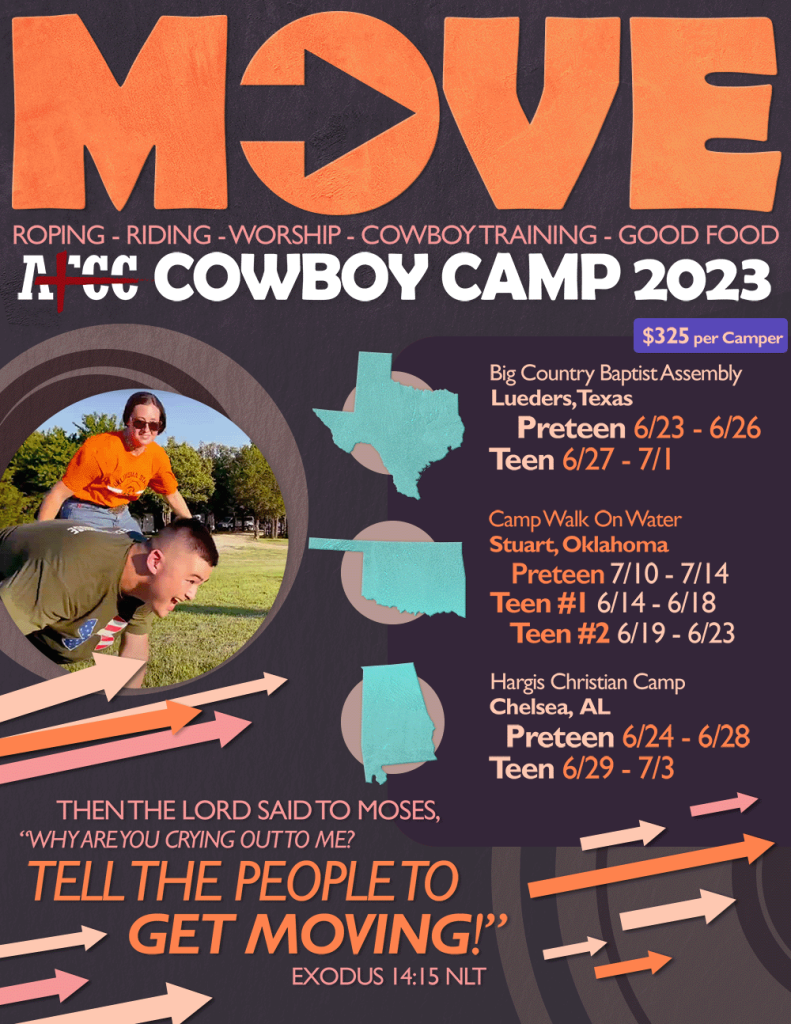 MOVE – Cowboy Camp 2023!
Texas Camp
Big Country Baptist Assembly
Leuders, TX
Preteens: 6/23-6/26
Teens: 6/27-7/1
Oklahoma Camp
Camp Walk on Water
Stuart, OK
Preteens: 7/10-7/14
Teen 1: 6/14-6/18
Teen 2: 6/19-6/13
Alabama Camp
Hargis Christian Camp
Chelsea, AL
Preteens: 6/24-6/28
Teens: 6/29-7/3
Cost per Camper will be $325.
2023 Camp registration will open before you know it! Please follow us on Facebook to stay up to date on future event registration chances!
Then the LORD said to Moses, "Why are you crying out to me? Tell the people to get MOVING!"

Exodus 14:15
What You Can Expect at Cowboy Camps
For more information about our cowboy camps, please contact the following email according to camp location with any questions.
Alabama Camps: afccalcamp@gmail.com
Oklahoma Camps: ok.afcc.camp@gmail.com
Texas Camps: afcctexascamp@gmail.com
Other Cowboy Camp Videos
2021 was a great year for Cowboy Camps, and we are gearing up for another great year!
In the meantime, enjoy this playlist of some of the amazing times we caught on video:
Featured videos from 2019 Cowboy Camps –
Watch Now