Learning the Ropes

Learning the Ropes is a New Living Translation Bible with a custom cowboy inspired cover. This bible was created with cowboys in mind.
What's Included?
Contents include both Old and New Testaments, Learning the Ropes introduction and steps to learning the ropes, topics to consider, tackling tough issues, abundant living, great stories of the Bible, a dictionary/concordance plus much more. In addition, readers can go straight to the four-page color insert to learn more about a relationship with Jesus Christ.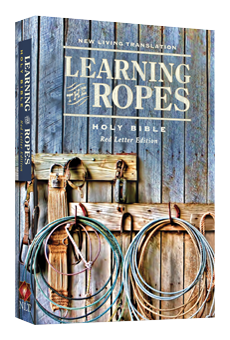 Learning the Ropes Bible (Red Letter Edition)
$168.00 per case of 24.
Please complete the order form below or print the downloadable form and return it to AFCC with payment. The order will be placed when payment is received and shipped directly to your location.
"Learning the Ropes" Bible Online Order Form