Ministry Development Certificate Program

Designed to help Cowboy Church Leaders increase their Biblical Knowledge and Understanding
A Bible that is not studied carefully cannot be followed carefully.

John MacArthur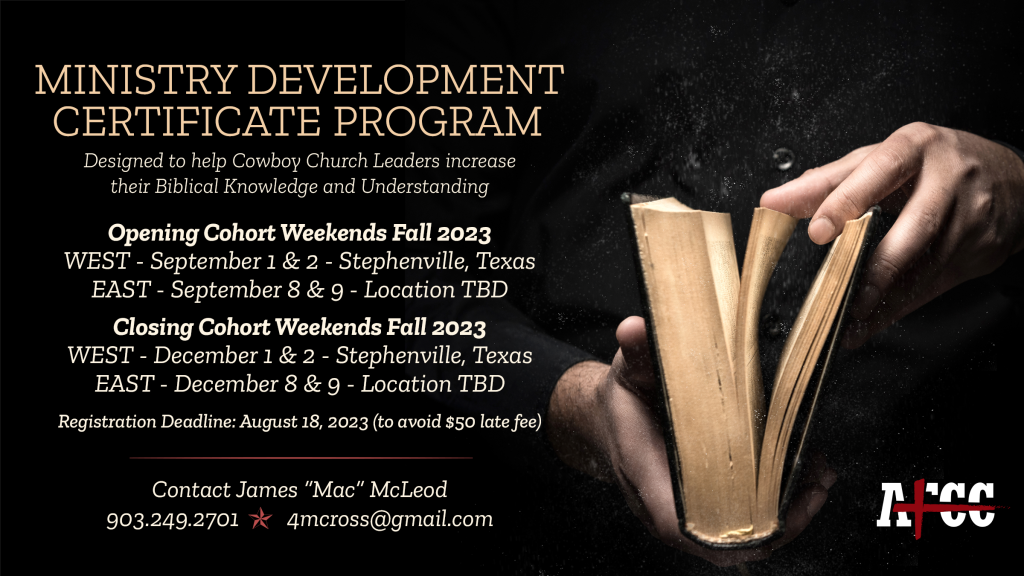 Opening Cohort Weekends 2023
WEST GROUP: September 1 & 2 – Stephenville, Texas (Cowboy Church of Erath County)
EAST GROUP: September 8 & 9- Location TBD
Closing Cohort Weekends 2023
WEST GROUP: December 1 & 2 – Stephenville, Texas (Cowboy Church of Erath County)
EAST GROUP: December 8 & 9 – Location TBD
Registration Deadline: August 18, 2023 (to avoid $50 late fee)
What is MDCP?
The AFCC is offering a 3-year Ministry Development Certificate Program geared towards greatly enhancing the theological breadth, depth and competency of those who are called by God to be spiritual leaders in the cowboy church community.
Who Can Take the Courses?
Courses will be offered to Cowboy Church Leaders who have limited theological education or training.
Senior Pastors
Co-Pastors
Assistant Pastors
Lay Pastors
Team Leaders
Elders
Teachers
Ministry Staff
Other Ministers in the AFCC
How Much Does it Cost?
$200 per course or $800 per year. Total cost of $2400 for all 3 years*.
*AFCC Pastors, Ministry Staff and spouses will receive a $200 credit after completing all four courses in Year 1: Foundations. This credit will go towards the first course in Year 2: Advanced.
Courses Offered
Year 1:
Foundations
How We Got Our Bible
Principles of Biblical Interpretation
Christian Doctrine
Hands on Ministry Toolbox
Year 2:
Advanced
Spiritual Formation
Ecclesiology
Worldviews Infiltrating Your Church
Current Issues Facing the 21st-Century Church
Year 3:
Advanced Intensive
Christianity vs Atheism & Creationism vs Evolutionism
Politics and the Church & Christian Ethics
Great Leaders
Biblical Servant Leadership
Qualified Instructors Needed
This is an opportunity to serve and help develop disciples who look upon ministry as an adventure in excellence with God. Please contact us to find out if you qualify.
Contact Us for Details
If you are a church leader and interested in completing the 3-Year MDCP or would like to be an instructor, please contact James "Mac" McLeod.
Phone: 903-249-2701
Email: 4mcross@gmail.com
Lead Team Members
James "Mac" McLeod, Director. Powderly, TX.
Werth Mayes, Asst. Director. Stephenville, TX.