Cowboy Camps

Cowboy Camps are an incredible opportunity to be involved in nurturing and guiding our youth during the most formative years of their lives.
New featured videos from 2019 Cowboy Camps –
Watch Now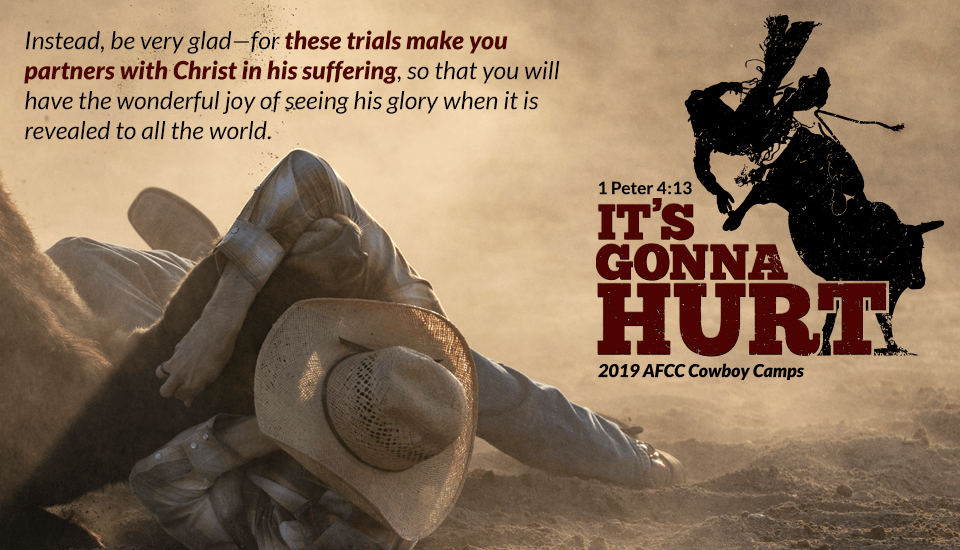 Cowboy Camps Registration
The 2019 Cowboy Camps registrations may be closed, but keep checking here and on our Facebook Page for our announcement when registration opens for the 2020 Cowboy Camps!
Follow the steps below to register for the 2019 Cowboy Camps. Step #2 is for church leaders only.
For more information about our Cowboy Camps, please contact the following email according to camp location with any questions:
Alabama Camps: afccalcamp@gmail.com
Oklahoma Camps: ok.afcc.camp@gmail.com
Texas Camps: afcctexascamp@gmail.com
---
Step 1: Reservation Form
Please fill out the online reservation form, pay $50 nonrefundable deposit per person (camper and sponsor) online or mail printed confirmation and deposit to PO Box 513, Waxahachie, TX 75168 to reserve your spots for 2019 camp(s).
NOTE: Reservation is not confirmed until deposit is received. See Step 3 for Camp Price.
Deadline: March 15, 2019
---
Step 2: Church Leaders ONLY
Church leaders must click on the link below and register on the Cowboy Camp's database. Leaders need to submit information for each confirmed camper with your church.
NOTE: Only one leader, per church, needs to follow this step. Each church will need to create a login (2018 information was deleted)
*All campers/sponsors must be entered online by April 30, 2019. No new adds will be allowed after April 30th. Drops and adds of current camper slots will be allowed until 2 weeks prior to camp. NO EXCEPTIONS.
---
Step 3: Download Camper Registration Form
Download and submit the following form. Follow submission instructions printed on the form.
Sponsors MUST also complete Step 5 entirely.
NOTE: Only fill out the form for the specific camp you are attending (AL, TX, OK).
*For every 10 campers there must be 1 sponsor. 10 female campers to 1 female sponsor & 10 male campers to 1 male sponsor.
Camp Dates
ALABAMA
Dates & Location
AL Preteen Camp: June 19-22
AL Teen Camp: June 23-27
Location: Sumatanga Camp and Conference Center
Cost per camper:
Teen: $275
Preteen: $250
---
OKLAHOMA
Dates & Location
OK Teen 1 Camp: June 12-16
OK Teen 2 Camp: June 17-21
OK Preteen Camp: July 25-29
Location: Camp WOW
Cost per camper:
Teen: $275
Preteen: $250
---
TEXAS
Dates & Location
TX Preteen Camp: June 29 – July 2
TX Teen Camp: July 3-7
Location: Big Country Baptist Assembly
Cost per camper:
Teen: $250
Preteen: $200
---
Step 4: Download Camper Information & Rules
This document contains important information for campers, dress code, and camp rules.
---
Step 5: Multiple Steps for ALL Sponsors
Step 5a: Submit Volunteer Application (Online Form)
For ALL SPONSORS, staff, pastors, & worship leaders..
Step 5b: AFCC/Camp Waiver (Print and bring to camp)
Step 5c: Child Protection Training (Online Test)
All adults attending any AFCC Cowboy Camp must complete Child Protection Training every year. The training videos and test are available through the link below.