The Gathering 2022

By the Lord's grace we are able to come together in fellowship for a time of reflection, thanksgiving and setting spiritual goals for the new year.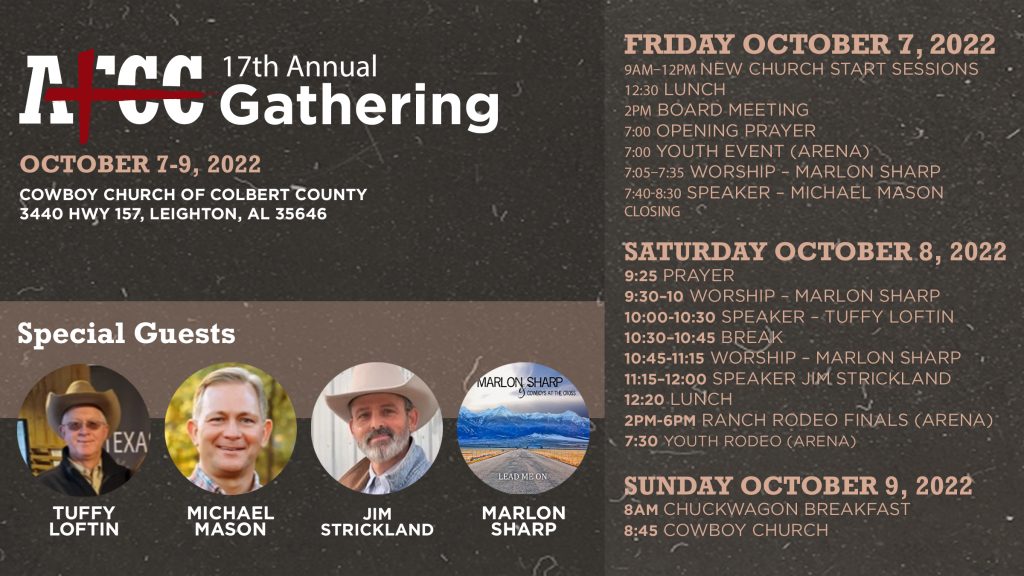 "For where two or three gather together as my followers, I am there among them."
Matthew 18:20
Video from The Gathering 2019
We recorded Jason Taylor's message from The Gathering 2019 for you to watch and share.
See Our Schedule The Gathering 2022!
Don't miss the AFCC event of the year!
Friday October 7, 2022
9am–12pm: New Church Start Sessions
12:30: Lunch
2pm: Board Meeting
7:00: Opening Prayer
7:00: Youth Event (Arena)
7:05–7:35: Worship – Marlon Sharp
7:40-8:30: Speaker – Michael Mason
Closing
Saturday October 8, 2022
9:25: Prayer
9:30–10: Worship – Marlon Sharp
10:00-10:30: Speaker – Tuffy Loftin
10:30–10:45: Break
10:45-11:15: Worship – Marlon Sharp
11:15–12:00: Speaker Jim Strickland
12:20: Lunch
2pm-6pm: Ranch Rodeo Finals (Arena)
7:30: Youth Rodeo (Arena)
Sunday October 9, 2022
8am: Chuckwagon Breakfast
8:45: Cowboy Church