Cowboy Camps

Cowboy Camps are an incredible opportunity to be involved in nurturing and guiding our youth during the most formative years of their lives.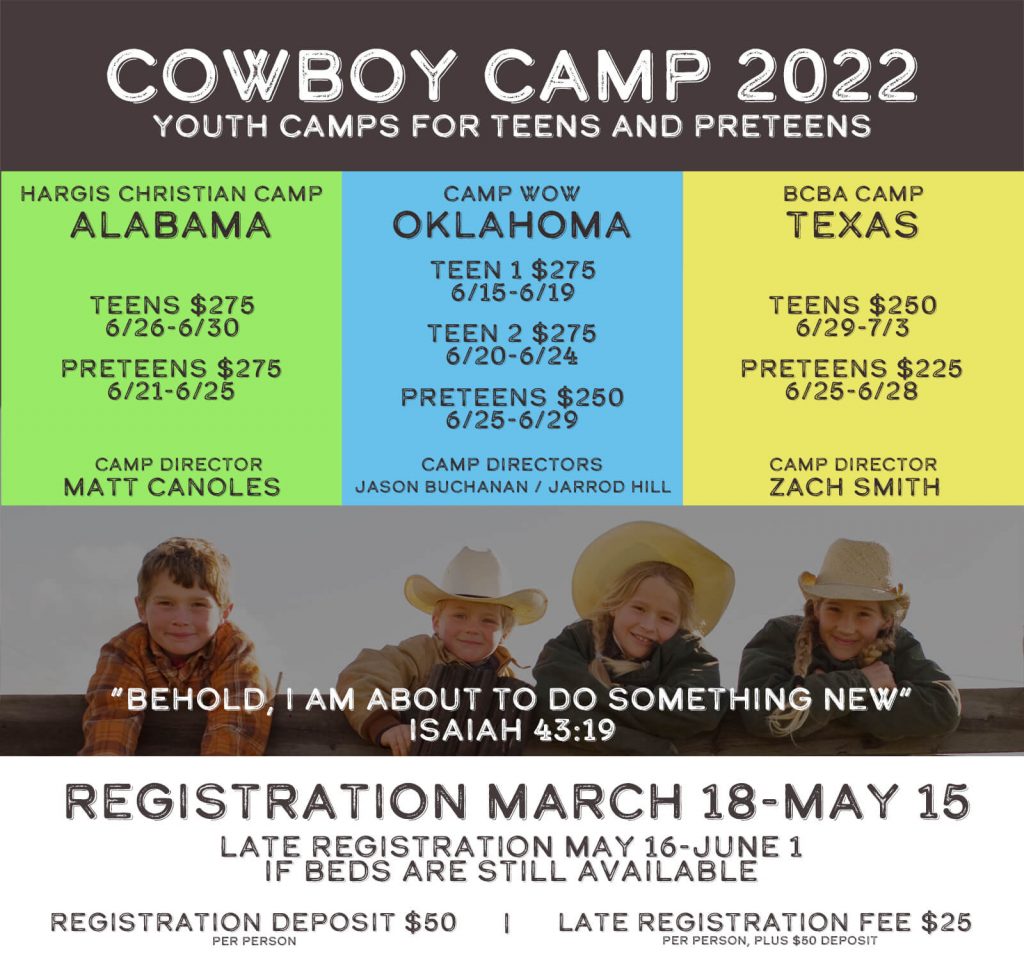 Camp Registration 2022
2022 Camp registration is now OPEN. Please follow the directions below to join us!

For more information about our cowboy camps, please contact the following email according to camp location with any questions.
Alabama Camps: afccalcamp@gmail.com
Oklahoma Camps: ok.afcc.camp@gmail.com
Texas Camps: afcctexascamp@gmail.com
Step 1: Register Your Account
Please fill out the online reservation form and payment online OR mail printed confirmation and deposit to PO Box 513, Waxahachie, TX 75168 to reserve your spot for the 2022 camp(s).
NOTE: Reservation is not confirmed until deposit is received and campers/sponsors are put in online.
Deadline: May 15, 2022
Click HERE to register your account.
Step 2: Submit Camper Names
Church leaders must click on the link below and register on the Cowboys Camps database. Leaders need to submit information for each camper with your church (includes sponsor names).

NOTE: Only one leader, per church, needs to follow this step. Each church will need to create a login.
All campers/sponsors must be entered online by May 15, 2022.
*Late registration is May 16, 2022 to June 1, 2022 with $25 per person additional charge. (If beds are still available)

Click HERE to submit camper names
Step 3: Download Camper Registration Form
Download and submit the following form submission instructions printed on the form.
Sponsors MUST also complete step five entirely.
NOTE: Only fill out the form to the specific camp you were attending (AL, OK, TX)
*For every 10 campers there must be 1 sponsor. 10 female campers to 1 female sponsor and 10 male campers to 1 male sponsor.
Step 4: Download Camper Information & Rules
This document contains important information for campers, dress code, and camp rules.
Step 5: Multiple Steps for All Sponsors
Step 5A: Submit Volunteer Application (Online Form)
For all sponsors, staff, pastors, & worship leaders.
Step 5B: AFCC/Camp Waiver (Print and Bring To Camp)
Step 5C: AFCC/Camp Waiver (Print and Bring To Camp)
All adults attending any AFCC cowboy camp must complete child protection training every year.
The training videos and test are available through the link below.
Volunteer Application (Background Checks) AND Child Protective Training Tests are due by May 20, 2022
Cowboy Camp Video Playlist
2021 was a great year for Cowboy Camps, and we are gearing up for another great year!
In the meantime, enjoy this playlist of some of the amazing times we caught on video:
Featured videos from 2019 Cowboy Camps –
Watch Now